The National Palace Museum Experience

The National Palace Museum in Taipei is a world-famous treasure-house of Chinese art and culture. Accumulated using all the resourcesavailable to Chinese emperors over the centuries, its collection enshrines the finest accomplishments of imperial China's artists, craftsmen and scholars.

Now for the first time ever, this DVD-ROM guides you on a Virtual Reality Tour through the Museum's many fascinating galleries and offers you a free, relaxing environment in which to luxuriate in the beauty of Chinese art.

The treasures of the National Palace Museum are a precious heritage of human civilization.
From rustically hewn stone carvings of high antiquity to exquisitely carved fruit stones, from elegantly restrained Song porcelain to colorful Qing decorated ware, whether lustrous jades, exotic enamelware, fascinating curio cabinets, or Shang and Zhou ritual bronzes, each has its own special place in China's cultural history.

Sit back and listen as six Theme Tours put Chinese art works and antiquities into context within Chinese cultural traditions. Examine selected objects in breathtaking detail, including ultra-screen magnification, highlights of design features, and three-dimensional structural sketches. Come closer to masterworks of Chinese art than ever before.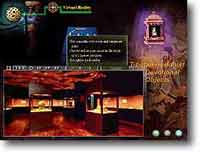 Virtual Reality Tour

Treat yourself to a personalized tour of priceless cultural artifacts. Browse 1,200 treasures in 19 exhibition galleries, presented in 143 virtual reality panoramas. Pan, zoom and click to your heart's content! Don't worry about getting lost -- an orientation guide will keep you company throughout your tour.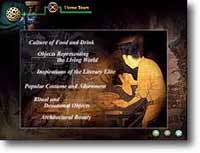 Theme Tours

Relax to six DVD videos with easy-listening stereo narration in English or Chinese. These weave art treasures together to illustrate ancient China's dining and drinking culture, explore mysterious animal designs on ritual vessels, display popular styles of dress and adornment, celebrate the refined amusements of the Chinese literary elite, and much more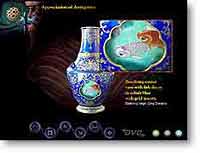 Appreciation of Antiquities

Appreciate 249 selected art works and antiquities in breathtaking detail through ultra-screen magnification, easy-listening stereo narration, three-dimensional structural sketches, and highlights of design details.
33 works of outstanding importance are also featured in DVD video.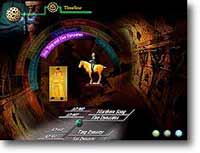 Interactive Timeline

Scan Chinese history in the imperial era through nine broad chronological phases.
See how representative artifacts illustrate cultural trends of each period.